With Labor Day come and gone, we're saying so long to summer and kicking into high gear for fall! Here's what to know and where to go this month.

Theatre Week
Theatre Week celebrates DC's professional theater community. Dozens of local theaters will participate, with $15 and $35 tickets available for some of the most exciting shows of the season. Expect diverse work, including comedies, musicals, and dramas. A free kick-off party will also be held at Arena Stage on September 7th featuring performances, demonstrations, meet-and-greets, and giveaways. Learn more and buy your tickets here!
CAMP at The LINE
Envisioned as an escape from the city, CAMP is a rooftop event series that draws inspiration from fall travels as well as local food and beers -- all punctuated by the LINE's panoramic rooftop view of Washington, DC. CAMP is held in support of an eclectic lineup of neighboring cultural establishments, with $5 per guest going towards that night's organization of choice. CAMP is in session from August 25th until October 20th, and registration is now open. Reserve your spot today!
12 Fun Food Events Around DC This Weekend

On the menu: DC Beer Week, a 14th Street restaurant tour, and singles fun. If you're looking for something fun to do, check out the full list of events
here
.
Marc's September Wine Recommendation
This month you get a two-for-one with not only a wine recommendations, but a great book recommendation as well!
Caymus
has a signature style that is dark in color, with rich fruit and ripe, velvety tannins – as approachable in youth as in maturity. They farm Cabernet grapes in eight of Napa's 16 sub-appellations, with diversification enabling them to make the best possible wine in a given year. Their Cabernet offers layered, lush aromas and flavors, including cocoa, cassis, and ripe dark berries. Pair it with "Birdsong" by Sebastian Faulks and you're in for a real treat for the mind and the palate.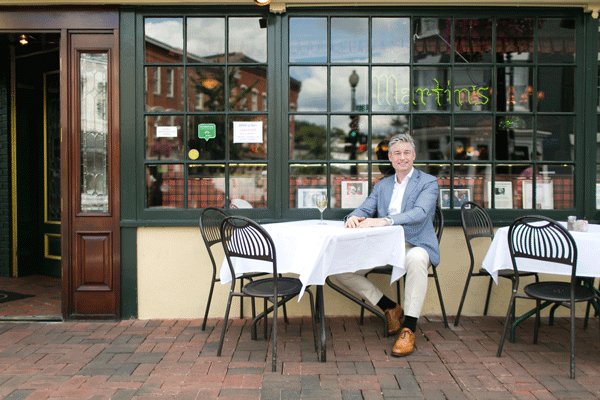 Marc's September Restaurant Recommendation
For almost nine decades, visiting guests, future presidents, senators, staffers, and stars have all called
Martin's Tavern
their home away from home. It's where JFK proposed to Jackie, where former Secretary of State Madeleine Albright once told Billy Martin over dinner that she thinks of Martin's as an extension of her living room, and where baseball greats including Mickey Mantle, Ty Cobb, and Yogi Berra dined in the "Dugout Room." Every U.S. president from Harry S. Truman to George W. Bush, has come to dine, discuss, and relax while shaping the nation's history. Marc's favorite is the buttery lobster roll. Give it a try - you won't be disappointed!
50+ Decorating Tips Designers Swear By

While the process of decorating your home is thrilling, it also comes with its fair share of challenges. Your goal should be to showcase your design aesthetic in a tasteful way, but it's a given that you'll be faced with everything from an interior that lacks natural light to a layout that's much smaller than you'd like. So it's no surprise that these common dilemmas might turn you off from decorating altogether. Check out

these ideas

for inspiration.
The Inside's New Furniture Collection is a Dream for Menswear Fashion Lovers

From the vintage tie to the classic pinstripe suit,

the Inside's latest furniture collection

takes cues from timeless menswear fashion staples. For inspiration, the online furniture brand turned to a small group of male tastemakers, including fashion designer Peter Som and Anthony Sperduti, founder of Mythology, a New York-based creative studio.
© Compass 2019 ¦ All Rights Reserved by Compass ¦ Made in NYC
Compass is a licensed real estate brokerage that abides by Equal Housing Opportunity laws. Information is compiled from sources deemed reliable but is not guaranteed. All measurements and square footages are approximate. This is not intended to solicit property already listed. Compass is licensed as Compass Real Estate in DC and as Compass in Virginia and Maryland. DC office: 202.386.6330. Maryland office: 301.298.1001.